Friday Favorite: Copernic Desktop Search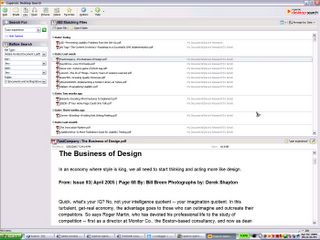 When it comes to good information on IA, UX, IxD and related subjects, I happily admit to being a packrat. Five years ago, I began saving everything I could find online as PDFs (
Adobe Acrobat
) and now have more than 2,500 files in my research folder. Yeah, it's obsessive—and a terrific resource
provided
I can quickly find what I need.
Over the years, I tried a number of different methods for indexing and searching my cache, but never found one that hit the spot. More or less by default, I ended up relying on Acrobat's Catalog function despite its lumbering pace and less than optimal results reporting.
Then I discovered
Copernic Desktop Search
(CDS).
The surprise was that it took me so long. I've been a happy user of
Copernic Agent
since its 1.x days, but somehow missed the debut of CDS. Better late than never.
What first attracted me to CDS was its ability to index PDF files and to refine searches to specific file types, dates, sizes and folders. CDS has since added indexing for e-mail (Outlook, Outlook Express and Eudora), music, video and pictures. Depending upon the scope, searches take only a few seconds. Results can be sorted by date, file type and folder and are easily grouped. You can preview specific files within CDS itself. After the initial index is built, CDS is remarkably well behaved; ongoing updates are nearly imperceptible. And it all is wrapped in Copernic's straightforward, no-nonsense UI.
CDS doesn't have the publicity machines of its competitors at
Google
and Yahoo! And it doesn't have the premium cachet of
X1
. But in a desktop-to-desktop shootout, I think CDS comes out on top.