Color Contrast Analyzer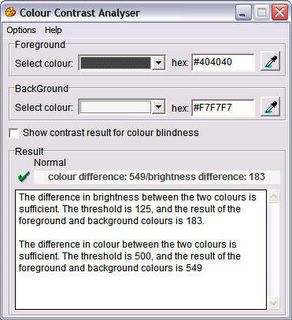 Ever wished that you had an easy way to explain to designers that there was insufficient contrast between type and background colors? Now there is!
I just tried out the
Colour Contrast Analyser
from the
National Information Library Service's
Accessible Information Solutions
in Australia (hence the Queen's spelling)—and I'm in love. This is a small, handy, easy-to-use program that instantly checks "foreground & background colour combinations to determine if they provide good colour visibility" based upon W3C standards. You can enter colors by hex number or (my favorite) extract them directly using a magnified view. There's no adware, malware or installation program; just unzip into the desired folder and run the 200kb exe.
Via
Web Design References
.